Problem: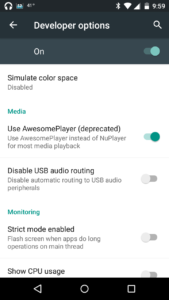 Soon after upgrading to Lollipop 5.1 on my Motorola g xt1031. I noticed that my car's bluetooth receiver began skipping.
UPDATE 5/24/2017: There is no fix, skipping still continues, although less frequent. Rebooting fixes it temporarily.
Solutions:
Revert back to the old music player.

Steps:

1) Enable Developer Mode (Settings–>About Phone–> Tap "Build Number" until give access)
2) Press back and you should now see a "Developer Options" menu item near the bottom of the settings screen.
3) Enable "Use AwesomePlayer"
4) Enjoy Skip Free Audio!

Other things I tried:

Clearing the cache and  data from the bluetooth process
Re-pairing my phone to my car's stereo
 

Backup your data and Factory Reset the Device

Unfortunately this seemed to be the last thing to try. This is what I did (on 1/10/2015) and it hasn't skipped yet. Will update if it does skip again.
Update 2/4/2015 –> Doing a factory reset has significantly stopped the bluetooth from skipping. When I get into the car, the phone does skip 2-3 times within the first minute of playing but then It doesn't skip at all.
Source: